There are plenty of things to do in El Calafate Argentina, especially if you're an outdoor enthusiast. El Calafate town may be small but its a big tourist hub and the gateway to Los Glaciares National Park.
It is situated on the southern border of Lago Argentino in the Santa Cruz region of Argentina. The charming town of El Chaltén (renowned as a haven for trekkers) is 200km to the north, and Torres del Paine National Park is just over the border in Chile.
There are several tourist attractions in El Calafate, but the Perito Moreno Glacier is the star of the show.  A visit to this Argentina Glacier has to be number one on any list of what to do in El Calafate, but it's not the only thing so read on to discover more.
 Guide to The Best Things to do in El Calafate in Winter or Summer
This article may contain compensated links. Please read my disclaimer policy for more info.
Exploring El Calafate Town Centre
The centre itself is similar to one of those chocolate box towns that you find in Switzerland. The shops are mostly located on the main street Avenue Libertador, and a walk down the road is a pleasant way to spend an afternoon.
The centre has an upmarket artisan feel with log cabins, that house charming, albeit touristy shops.  If you fancy doing some El Calafate shopping, there are fabulous delicatessens which sell exquisite hand made chocolates and an abundance of outdoor pursuit shops. Designer ski wear is easy to come by and there's plenty of chic souvenir outlets albeit with hefty price tags.

In winter the town has a pleasant vibe to it, however, in summer 'Calafate Tourismo' takes over as the hoards of visitors descend for brief overnight stays on route to Perito Moreno Glacier.
The above map of El Calafate has the locations marked of most of the activities mentioned below.
El Calafate -Perito Moreno Glacier
Tourists come from all over the world to visit the Perito Moreno Glacier and its top of the list of things to do in Patagonia.
It's the star attraction and worth a full day trip. The easiest way to get there is on a Perito Moreno Glacier Tour, but you can get the bus or hire a car if you wish to travel independently.
Perito Moreno is in the middle of the Glacier National Park, Argentina.
From El Calafate, it takes around 90minutes to reach the entrance of the Los Glaciares National Park.
The glacier is then a further 30Km. This ice field is the world's third-largest reserve of fresh water, at 250 km2 (97 sq mi) it's slightly bigger than Boston and just a fraction under the size of Birmingham.
What to expect when you see this magnificent El Calafate Glacier
If you travel here in winter there's a good chance that they'll be snow on the ground and entering the national park is like stepping into a magical winter wonderland.
The crisp whiteness of the snow and the heavily laden branches are befitting of any Christmas card collection. There are a lot fewer tourists than in the summer, which makes the place even more enchanting.
At any time of year its hard to believe as you drive through the park, that you're close to such a vast expanse of ice. The only evidence is the occasional glimpse that you get of a shimmering, bright blue block of ice, floating on the lake.
After many twists and turns, it takes you by surprise when suddenly Perito Moreno appears in the distance. Even if you've seen glaciers before in places like Switzerland, they're unlikely to be comparable.
Perito Moreno is vast, like a mountain range of ice.  Its blue, turquoise colour is so imposing on the landscape that you'll feel its presence, even from a distance.
Things to do in Perito Moreno
The Port
The first stop, whether you're on a Perito Moreno tour or an independent visit, is the port.
You can take a boat ride from here up to the glacier which cost around 350 Pesos. There's no need to book tickets in advance as you can get them at the kiosk marked 'Navegacion'. Some tours include the cost of the boat ride, but in general, you will need to purchase the boat trip separately.
If you are driving yourself through the park, the port is off the road to the left and down a hill.  You'll spot the car park and building from the main road.  There is a ticket office on the car park, and the boat operates most days of the year.
The Glacier
As a tourist attraction, the viewing platforms are laid out surprisingly well, although there are no toilet facilities here.  If you get caught short, its either hide and squat or take the car back to the cafe.
Several circuits made from a series of walkways guide you around the glacier.  A map at the start gives the distance and the time required to complete each course and coloured posts along the way mark the direction.
The views are both incredible and spectacular, no matter which path you take.
The metal walkways are sturdy and easy to walk on, with only slight inclines and slopes. Despite the ice, they seem to be none slip.  Any steps are well thought out and pleasantly graded, meaning that whatever level of fitness you have, its an enjoyable walk.
The path's lead through a woodland section before opening out to view the magnificent Perito Moreno Glacier. This vast mass of ice has an immediate impact on you.  Its average height is 73m, and its facade is a mix of beautiful blue ice.
The colours change depending upon your viewing angle, and it glistens like a crystal chandelier.  Your eyes get drawn to the intricate patterns and cracks within it.
There's a constant rumbling sound as the ice continually moves and occasionally there's a massive groan as a piece cracks. Every so often there's a mighty splash as a section caves into the lake.
Although it seems to be crumbling away, it is one of only three glaciers in the world that is growing. We stood for an age fascinated and mesmerised by it.
We visited amid winter when the weather was quite severe. Very few people had braved the conditions, so we almost had the glacier to ourselves. It was such a privilege to stand alone in front of one of the seven natural wonders of the world, a Unesco Heritage Site and have it all to ourselves.
The visitor centre
The centre is about 1km from the walkways and has a coffee shop and of course the all-important toilet facilities.
The inside of the building has a huge window that gives you a fantastic view of the glacier so that you can soak up the vista while warming yourself up with a hot beverage.
We opted for a hot chocolate which I can highly recommend.
If your driving here the visitor's centre is off the main road, to the right just before a sharp left bend. Its the only place where the way divides, so it's easy to find.
How to get from El Calafate to Perito Moreno
The easiest way to get to the glacier is on a Perito Moreno El Calafate tour. There are wide ranges of tours available, but if you prefer to travel independently, the following ways are possible.
By Car
Car rental in El Calafate is possible from the airport or the city, but it is advisable to book in advance, particularly in the summer months.
With a little help from google maps, Los Glaciares National Park is easy to find. From the centre of El Calafate directions are well signposted to Perito Moreno, and there's only one highway, Ruta 11. If you see the airport, you'll know that you've gone the wrong way.
In the winter the likelihood of snow on the road is high.  The highway wasn't too bad, but the side streets were quite icy. If you've not experienced driving in such conditions, I would recommend an organised tour.
Tip
If you do hire a car in winter, that's not a 4×4 make sure you get snow chains. If there is any snow on the road, the park rangers insist that you have a four-wheel drive or snow chains fitted.  Luckily we found some in the boot, and the park ranger Kindly attached them.
Entrance Fee to Los Glacieros National Park: $AR 500
Note: Most organised tours do not include the entrance fee to the National Park, you have to pay this on arrival
By Bus
Two bus companies operate between El Calafate and Perito Moreno, CalTur and Chalten Travel. Timetables can be found on their websites.
El Calafate Tours to Perito Moreno Glacier
For a full day trip to Perito Moreno Glacier including the boat ride, this tour by Say Hueque is an excellent choice.  Transfers are provided to and from your accommodation in El Calafate, and the cost of the boat trip is also included.  Like most tours, the only added extra is the entrance fee to the National Park.
On route to the Glacier, there's a guided commentary that points out the highlights of the surrounding landscape.  You also get plenty of time at Perito Moreno and can explore the walkways by yourself if you wish.
If your not sure whether you want to take the boat trip this tour by Tangol offers it as an additional extra.
Perito Moreno Mini Trekking, El Calafate
If seeing Perito Moreno, El Calafate is not enough, and you're eager to step foot on the glacier itself, you can opt for a Mini trekking tour. Following a bus ride from El Calafate to Bajo las Sombras and a boat ride across Lago Rico you'll arrive at the start of this fantastic adventure.
Once you reach the ice, your mountain guide will put on your crampons and give you a lesson on how to walk on the ice. As you spend the next one and a half hours trekking, you'll get to experience the ice formations up close including the cracks, crevices and small ponds.
A moderate level of fitness is necessary, and the trekking can be challenging at times. At the end of the trek, you can enjoy a more leisurely walk through the Magellanic forest, the fauna of which is spectacular.
The tour also includes a guided visit to the walkways where you'll be able to admire the impressive views of the glacier.
Big Ice Tour El Calafate
For the more adventurous the big ice Calafate trekking tour involves spending approximately 4 hours on the ice. The day begins with a coach ride from your hotel to the Bajo Las Sombras Harbour inside Los Glaciares National Park. After a short 10-minute boat ride to Brazo Rico, you'll be issued with your trekking equipment.
The hike takes you along the shore of the Lago Argentino and through the forest to the base of Perito Moreno Glacier.  From here, you can climb onto the viewing platform and admire the magnificent view of the front glacial wall.  The trek from here on gets challenging as you put on the crampons and climb the glaciers sloping surface.
The guides are fantastic and will reassure you all the way, but this trip does require a good level of fitness and its not for the faint-hearted. Along the trek, you can enjoy the lagoons, waterfalls and caves which are the result of the glaciers continual ice melting.
You'll enjoy lunch in the spectacular surroundings before retracing your steps and returning to El Calafate.
 El Calafate things to do, aside from Perito Moreno
While the main attraction near El Calafate is the Perito Moreno Glacier, its not the only thing to do and see. Heres a few other suggestions followed by some full-day trips which I highly recommend.
The Glaciarium Museum (Museo del Hielo Calafate)
The Glaciarium is a fantastic museum which has lots of information about the area.
There are exhibits on the origin of the universe including the formations of glaciers and a big 3d model of the Southern Patagonian Ice Field.
You'll also find lots of information on explorers including an area dedicated to Francisco Pascasio Moreno, a renowned explorer who the glacier is named after.
The section on current environmental problems and what effect these will have on the future of our planet also makes for interesting reading.
The Glaciarium shop is a fantastic place to pick up souvenirs or gifts that are made by Argentinan artisans from disposable or recycled products.
Directions to the museum are given below the Glacier.
The Glaciobar
On the ground floor of the Glaciarium is an ice bar in which everything is made from ice.  This includes the walls, tables, glasses and even the couches.  It's a unique place to have a drink.
Before entering the bar, you have to put on the appropriate attire.  A silver cloak and pair of gloves which makes you look like Mrs Christmas but its all good fun and of course essential to protect yourself from the ice.
The fluorescent lighting inside is a little tacky, but the experience is worth it to see the sculptures carved out of ice inside.
There is an additional charge for entering the bar, but it does include a free drink, and the unique surroundings are worth seeing.
How to Get to the Glaciarium and Glacio Bar
By Car
The Glaciarum is 6km from El Calafate. Follow the Avenue Libertador in the centre of town towards Ruta 11 in the direction of Los Glaciares National Park. The Glaciarium is off the main road on the left-hand side.  Its signposted and is the only building that you can see, so you're unlikely to miss it.
Free Shuttle
There is a free shuttle which departs every hour between 11 am and 6 pm from the Oficina de Turismo El Calafate (Secretaria de Turismo) building in the centre of El Calafate.
Entrance fee
* Costs are subject to change, but they are correct at the time of writing
Adults $AR 400
Senior Citizens and students $AR350
Children $AR 200
The Glaciobar costs $AR 300 for Adults and $AR150 for minors under the age of 16
Note – Children under the age of 3 are not permitted to enter the Glaciobar.
Laguna Nimez Nature Reserve
Laguna Nimez is a great place to go bird watching and take a walk.  It's only a km from the centre of El Calafate and close to Lago Argentino. There is an entrance fee which at the time of writing was 350 pesos.
You can make a self-guided tour and maps are available at the entrance hut in several languages. There are around 80 different species of birds that you can spot from the viewpoints and walkways.
There are two lagoons and a couple of hides, so it's worth bringing a pair of birdwatching binoculars with you or renting them from reception. If you're here in the summer months its a great place to watch Flamingos while in winter you can ice skate on the frozen water. Unfortunately, you do need to have your skates as there's none to hire.
This El Calafate tour includes a visit to Laguna Nimez as well as the Interpretation Centre and Walichu Caves.
El Calafate Historical Interpretation Centre
The Interpretation Centre is a great, albeit small museum full of interesting facts, and the history of the local area. If you like dinosaurs, you won't be disappointed as there are some unique fossils on display and it's a great place to visit with children.
It's on the outskirts of town and takes about 20 minutes to walk there. Its open between 10 am, and 8 pm and translations are available for the exhibits in English.
Entrance Fee
*Prices are subject to change but were correct at the time of writing.
Adults $AR 260
Senior Citizens and students $AR190
Children $AR 150
Calafate Mountain Park
For spectacular views of the surrounding area and lots of fun its worth considering a visit to Calafate Mountain Park. This is a great day out, especially if you've got kids who need entertaining as there are lots of El Calafate activities on offer all year round.
In the winter you can learn to ski, take a ride on a snowmobile, go trekking with snowshoes or have fabulous fun tubing. While in summer you can enjoy a bike ride, go walking or embark on a quad bike adventure.
The park is approximately 20 km from El Calafate and is situated on the Cerro Huilliche. There's also a chairlift you can take to admire the stunning views from the balcony.
Top things to do in El Calafate in Summer
Visit an Estancia available from October to April
If you want a taste of real Patagonian life, a trip to an Estancia, El Calafate is a must. Estancias are farms or ranches for rearing sheep and cattle and often cover vast areas of the surrounding area.  If you're interested in a tour, Estancia Cristina is one of the most popular.
It begins with a boat ride from Punta Bandera to Estancia Cristina.  The scenery on route is breathtaking as you sail past icebergs and stunning snow-capped mountains.
At the estate, there's a museum which tells you all about the history of the cattle ranch before you explore the historic buildings on the estate.
After lunch, there's a choice of activities. You can either go on an off-road 4×4 excursion to Upsala Glacier or take a visit to Los Perros Waterfall.
You can also stay at the Estancia Cristina lodge the rooms are both spacious and comfortable. The views are stunning in this remote part of Patagonia, and there's plenty of outdoor activities to keep you occupied.
There's a range of hikes to suit all levels, 4×4 excursions, horse riding, mountain biking and fishing. The Lodge offers full board accommodation and the food is delicious.
Walichu Caves
Walichu caves are situated on the edge of Lake Argentino approximately 10km out of town and were discovered by Perito Moreno in 1877. They are a fantastic example of how our early predecessors used to communicate.
The paintings are deemed to be 4000 years old and originate from the upper Paleolithic period. They are red, ocher, yellow, black and white and were painted using gypsum and plant resin. Many have been restored and look like new hence some people argue that these are not original.
They are perhaps not as impressive as the Aboriginal ones in Australia, but they're worth a visit if you can spare the time and you've not seen rock paintings before. If caves and rock paintings don't interest you, consider driving to the location as the view of the lake is just stunning.
Directions to Walichu Caves
Follow Libertador Avenue to Ruta 11 and travel 6km towards the airport.  There is a narrow road off to the left, and if you follow this for approximately 3km, you arrive at the car park on the edge of Lake Argentino.  There is a small entrance fee, and you'll need around an hour to see the paintings.
If you haven't hired a car, there are guided tours available through Get your Guide.
Day trips from El Calafate
La Leona Petrified Forest
La Leona forest is a vast baron landscape that's steeped in history.  The area has a wealth of dinosaur and plant fossils to explore, not to mention the remains of petrified tree trunks that now appear to have turned to stone.
The area lies on private land, and as such, it can only be visited on tour. In complete contrast to the glacial landscapes, there is no groundwater here and as such the scene is of stark contrast. Barely anything grows here apart from the occasional plant that survives from the water molecules it manages to collect from the surrounding dusty air.
Most tours to the Petrified Forest of La Leona make a brief stop at the historic site of Hotel La Leona. The hotel was built by Danish Immigrants, and famous characters such as Butch Cassidy have passed over its threshold. Following on from this brief rest stop, you'll continue by coach to the nearby hills of Cerro Los Hornos where you begin an easy 7-mile hike around the forest.
An alternative way to reach the forest is to take a kayak tour from El Calafate. This trip is highly recommended if your spending more than a couple of days in El Calafate. It takes approximately one hour to paddle down the 8km of the river to the forest. You then get the opportunity to take a hike and enjoy lunch in the unique surroundings before paddling back. Transfers to and from the river are included in the trip.
Torres del Paine National Park
If your Patagonia itinerary does not include Chile, this is a great day trip which allows you to explore the breathtaking scenery of the Torres del Paine National Park.
On route, the scenic drive from El Calafate passes the stunning Amarga Lagoon and Lake Sarmiento. Stops are made at the most spectacular viewpoints, the most magnificent of which is the 'horns' of the Cordillera Paine mountain range.
After making your way through customs with the assistance of a guide, you continue the journey to Torres del Paine where you can enjoy Lake Pehoe, Paine River and the well-known grey glacier. You can also take a short hike to see the Salto Grande Waterfall. The view of the waterfall is spectacular as the water fed from Lake Nordenskjöld cascades 50m into Lago Pehoé below.
Its a long day trip with 3 hours spent on a coach each way, but the views are well worth it and its a great way to get a taste for Chile.
El Calafate Horse Riding Tours
Nibepo Aike is an Estancia approximately one and half hours drive from El Calafate.  They offer a range of horseback excursions from one-hour rides to full-day excursions to view the glaciers. It's possible to book tours from there office on Av del Libertador.
How to get to El Calafate
Argentina is a vast country and distances between cities are much bigger than you think, hence it's much quicker to fly between destinations.
Check out the best deals on local and international flights at this link.
El Calafate airport to town is only a short distance, so the easiest way to arrive is by plane.  There are regular flights from Buenos Aires to El Calafate all year round, and it takes approximately 3 hours. You can also fly to and from Ushuaia throughout the year.
In the summer months, domestic flights around most of Argentina are frequent, but during the winter many of these routes such as San Carlos Bariloche to El Calafate are suspended. If you want to travel in winter, it is possible, but most flights to El Calafate are via Buenos Aires.
Travel by Bus
The most popular routes include the bus from Puerto Natales to El Calafate and the bus from El Chalten to El Calafate. For up to date timetables, tickets and prices Busbud.com is a fantastic website.
El Calafate bus station is about a 20-minute walk from the centre of town but its easy to get a taxi to and from your accommodation.
Car Hire El Calafate
Hiring a car is a great way to explore the area and travel between cities. One way car hire is available by companies such as Hertz el Calafate, but to compare competitive quotes from all major car hire companies its best to book through rentalcars. Com.
If you are hiring a car in the winter months, I would advise that you rent snow chains or book a 4 x4.
El Calafate Accommodation
El Calafate maybe a small town but it's not short of hotels and places to stay. The best hotels in El Calafate are the hotel Mirador del Lago and the Hotel ACA. The best hostel is America del Sur Hostel but if you are on a tight budget Hostel Guerrero is a good choice.
If you're looking for a luxurious place to stay in beautiful surroundings on the outside of town, the design suites Calafate used to be where to stay in El Calafate. However, recent feedback on TripAdvisor would suggest that the design suites are not quite what they used to be.
Check out the Posada Los Alamos or Xelena Hotel & Suites if you prefer a luxury hotel with excellent facilities. Both of these properties receive excellent reviews and have spa facilities, including a pool.
Mirador del Lago Calafate
CLICK TO CHECK DATES AND PRICES
The Mirador hotel El Calafate is in a stunning location set on the edge of Argentino Lake. You can opt for a room with a stunning view over the Lake and classy decor.
All rooms are stylishly decorated and have ensuite facilities. If you don't want to splash out for a room with a view, you can still enjoy the vistas of the lake from the lounge.
In the winter months, there's always a log fire going in the lounge, and its close proximity to town makes it an excellent choice. Wifi is available throughout the hotel, and there's free parking if you're hiring a car.  The buffet breakfast is delicious, and the La Bahía restaurant serves excellent regional and foreign delicacies.
Hotel ACA El Calafate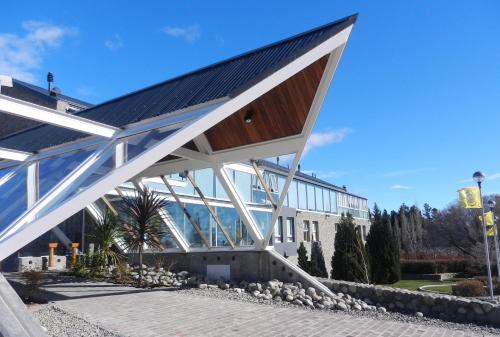 CLICK TO CHECK DATES AND PRICES
The rooms in this stylish hotel have contemporary wooden furniture, ensuite facilities, a tv and a minibar. The view at sunset from the restaurant is stunning, and the food is delicious.
The breakfast is good by Argentian standards, and free wifi is provided in all the rooms.
The hotel's close proximity to the main high street makes this an excellent choice, and there's a large car park which is free for residents to use. The green parkland and beautiful gardens that surround the hotel provide a great setting with splendid views to enjoy from the communal spaces.
Hotel Design Suites Calafate
If you're looking for 4-star accommodation, the hotel design Calafate offers indoor swimming, a gym and spa facilities. You can relax in the sauna or steam room, enjoy a massage and enjoy the heated swimming pool if you fancy just a day of relaxation.
CLICK TO CHECK DATES AND PRICES
The rooms are clean and have large windows which ensure their light and airy. Some rooms have fantastic scenic views over the lake, and there's a spa bath in many of the suites.
If you're looking for a romantic getaway, this is the perfect place.  It's on the outskirts of town so it may not be for everyone, but if you don't mind a 2km walk or booking a taxi, the hotel is in a beautiful location. There is a shuttle service, but it only operates twice a day, which is a shame.
There's a á la carte restaurant that serves delicious food, although the menu choice is small and not great for anyone with dietary requirements. Breakfast is good by Argentian standards and included in the room price.
Xelena Hotel & Suites
CLICK TO CHECK DATES AND PRICES
From the Xelena Hotel & Suites, you can admire the stunning vistas of the Argentino Lake in El Calafate. The health club has a  70-square-meter swimming pool as well as a hot tub and a sauna.  The spa offers massage and wellness treatments, and there's a well-equipped gym if you like to work out.
Rooms have views of the lake or the city, and private bathrooms have free toiletries and a hairdryer. There's also a minibar, safe, LCD TV and DVD player.
Breakfast is delicious, and dietary requirements can be catered for if you let them know in advance. The food in the Mora Restaurant is good, and there's also an onsite bistro and coffee shop.
From the communal spaces of the hotel, the scenery is stunning, and there's a free shuttle service every hour to and from town.
Posada Los Alamos
CLICK TO CHECK DATES AND PRICES
Posada Los Alamos is centrally located and within short walking distance of the main high street. The indoor pool has spectacular views with floor to ceiling windows for you to enjoy them through.
There is a spa and wellness centre where you can book a massage, and the jacuzzi and sauna are perfect for relaxing in. If you want to exercise, there's a fitness and workout room. The hotel also has a small 18 hole golf course, a beautiful garden and the surrounding mountains provide a magnificent backdrop.
The rooms are spacious and include heating, cable tv and a minibar. There's also free wifi in the rooms and parking is available without charge for guests.
The buffet breakfast is excellent with a choice of both American and Argentinean food. The hotels La Posta restaurant serves a la carte dining with regional specialities such as Patagonian lamb, and there's a choice to two bars to enjoy a drink in of an evening.
Recommended Tour Company
If you don't want the hassle of booking El Calafate excursions and hotels, why not opt for a 3-day package. Intrepid Travel has a fantastic trip which is inclusive of El Calafate hotels, a trip to Perito Moreno, Ice Museum and English speaking guides. This is a professional company that offers excellent value for money and makes booking easy.


You can also book longer itineraries in Patagonia which include EL Fin de Mundo Ushuaia and other regional gems.
What to pack for El Calafate
The weather in El Calafate is reasonably cold all year round.  In the summer months (November to February) the highest temperatures are around 16 degrees Celcius whereas in the Winter months (June to August) they will be close to zero.
For that reason, it's best to pack layers so that you can add or take them off as you need.
Base Layers
Ski base layers both top and bottom provide great warmth and they're comfortable to wear. The best base layers are made from merino wool and these ones by Minus 33 are superb. This midweight one for men is ideal and theres a similiar one available for women also.
If you're travelling in winter, it's advisable to wear thermal leggings underneath your walking trousers. You can check out the ones I wear at the links below.
Thermal base leggings for women lightweight and women's midweight
Thermal base leggings for men Lightweight    Men Midweight    Men's Expedition
Hiking Pants
If you're visiting any of the glaciers a comfortable pair of waterproof hiking pants is essential.  My favorites are Sprayway all day rainpants.
I also like to pack a pair of convertible hiking pants, especially in summer. These Columbia women's Saturday Trail Pants are made from 2 way stretch water and stain-resistant material are fantastic.
For men I'd recommend the silver ridge convertible pants made by Columbia. They offer sun protection and are made from breathable material. What's even better is they have lots of pockets.
Fleece or Gilet
You can't beat a fleece for an extra layer of warmth.  I wear them all the time at home in the north of England where temperatures are not too dissimilar from El Calafate.  My favorite fleeces are made by Columbia.
Columbia also have some great fleeces available for men.
Ski Jacket
I love my Ski Jackets, and like my fleeces, I also wear them regularly back home.  I have several including ones made by Berghaus and Columbia but my favorite one for traveling is by Helly Hansen.  These jackets have a little more style in the way they fit, and they still keep you lovely and warm.
For men the Columbia Men's Alpine Action Jacket is an excellent choice.
Hat or Beanie
We lose most of our body heat through our heads, so for added warmth, especially in winter a hat or beanie is essential. Tough Headgear makes fabulous beanies which are thick, soft and most of all warm.
Thermal Gloves
There's nothing worse than having cold hands, and I'd highly recommend taking a pair of thermal gloves if you're visiting the glaciers.  I always wear my Hestra Ski Gloves, but if you're looking for a more stylish pair that are touch phone friendly and windproof check these ones by Tomily out.
Waterproof Hiking Boots
Waterproof Hiking Boots are essential for the snow, but they're also great for colder temperatures. My boots are XPETI Women's Thermator, and I love the fleece lining inside.  They also grip well on all sorts of terrain.
For more information on the best hiking boots for women under $100, click here or for the best hiking boots under $100 for men, click here.
Day BackPack
A day backpack is useful to carry things such as your phone and extra layers if the weather is looking unpredictable.
I prefer one which I can foldaway in my suitcase as I'm not a fan of carrying hand luggage. This TOURIT Lightweight Packable Travel Hiking Backpack is brilliant.
It's unisex, lightweight and comfortable to carry.  It's also large enough to fit plenty of things in should you need to take a few layers off while hiking.
Collapsible Water Bottle
Most people like to carry a bottle of water with them when they're out and about.  If you're one of them, do your bit for the environment and carry one that's refillable and reusable.
I love my collapsible water bottles as they hardly take up any room in my suitcase and they're super lightweight.
Sign up here and get the latest posts and tips to inspire your travel adventures
Pin to Pinterest
Passport and Piano is a participant in the Amazon Services LLC Associates Program, an affiliate advertising program designed to provide a means for sites to earn advertising fees by advertising and linking to amazon.com, amazon.co.uk, amazon.ca. Amazon and the Amazon logo are trademarks of Amazon.com, Inc. or its affiliates.